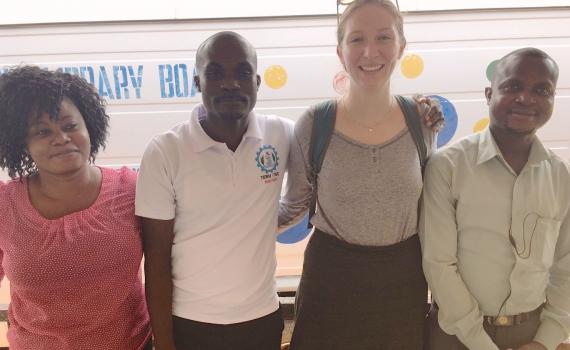 My name is Alix Halloran and I am GlobalGiving's Field Traveller in West Africa. I spent five months traveling around the region meeting with GlobalGiving's incredible nonprofit partners. I was so excited for the opportunity to spend the day with the regional librarians in Ghana who implement the EIFL Hands-on computer classes!
With support from EIFL, the regional librarians use their mobile libraries to reach out to students in four regions of Ghana. During my visit, I got to tag along as the library team in Ho visited schools in the area. The students at these schools do not have access to computer labs or laptops. This makes preparing for their exams on ICT skills very tough! The mobile library brings the laptops to the kids each week for practical lessons.
According to Bright, one of the regional librarians, "Most of the children are from poor homes and have to go to school by foot. The schools were carefully chosen to target children that are less privileged in the municipality." The regional librarians work with a variety of schools, including both religious schools and public schools. All the schools have one thing in common: they do not have the resources to provide a computer lab to the students.
I could tell that the ICT lessons are the highlight of the kids' week. All of the kids were eager to tell me everything they're learning to do on the laptops and expressed that they feel much more confident. They know that this will help them with their exams but will also be an important skill for their future careers. The teachers are excited too as they see exam scores improve and ICT theory classes having more of an impact with a practical component.
I am so grateful for all of EIFL's donors for helping their project to succeed. The mobile libraries' impact in Ghana is very impressive and it would not be possible without your help!
Alix Halloran, who lives in Washington, D.C., worked with GlobalGiving as a Field Traveller for six months. As GlobalGiving's Field Traveller in West Africa, Alix travelled extensively to visit projects supported through GlobalGiving in Senegal, Sierra Leone, and Ghana.
Donate to EIFL's Hands on computer classes for struggling schoolchildren.