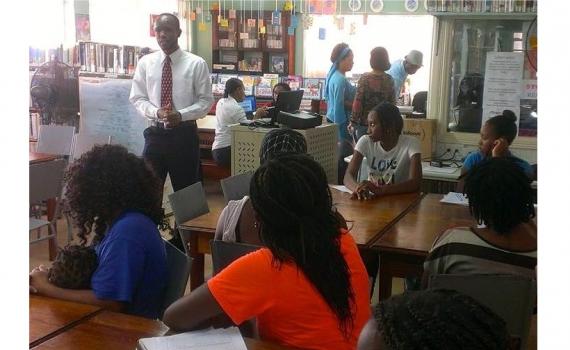 In the years that followed the 2008 global financial crisis, unemployment in the Caribbean Island of St Lucia rose by 8%, to an alarming 25%. Youth unemployment on the island is estimated to be over 30%.  In the rural district of Micoud in the southeastern part of the island, jobs are especially scarce. Without the hope of finding jobs, teenagers are not motivated to study further when they leave secondary school, and many can be seen idle in the village streets.
Micoud village, with about 2,600 people, is situated on the highway between the island's two main commercial and industrial centres: Castries, the capital city, and Vieux Fort, which has an international airport and a large seaport.
The two librarians at Micoud Public Library were convinced that young people could travel to jobs in these centres – if they could find them and get them. For this, young people would need job-seeking skills.
'WE MUST HELP PEOPLE TO HELP THEMSELVES'
"There is a need for public libraries to help people help themselves in a limited job market. We cannot create more jobs for the unemployed people of Micoud District, but we can help them put their best foot forward in applying for the jobs that are available, and help them increase their own chances of employment," says Barbara Trecker, Peace Corps Response volunteer at Micoud Public Library.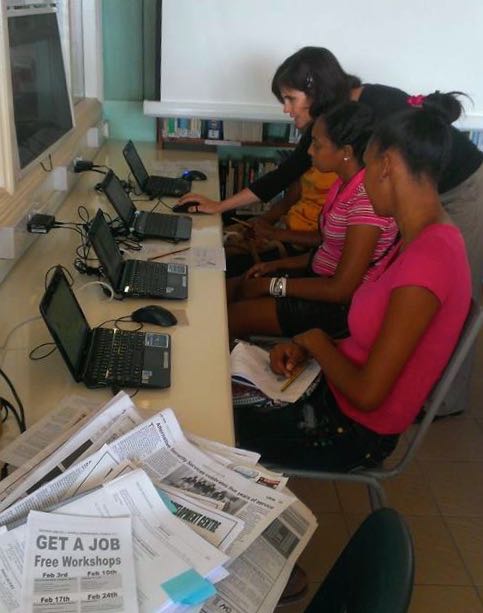 The librarians observed that although young people were able to use social media applications like Facebook and WhatsApp on their mobile phones, they did not have basic word processing skills. So they could not prepare professional curriculum vitae (CVs) and email them to employers.
To help young people into employment, the library designed a four-week training programme that included basic computer literacy, using email and Word; how to look for and apply for a job; writing a CV and cover letter; self-assessment and interview skills, and life skills like managing your finances, time management and goal setting.
YOUNG PEOPLE'S OVERWHELMING RESPONSE
Working with a local community action group called People Empowering People (PEP) and a US Peace Corps Response volunteer, the library publicized the workshops by word of mouth and through local media. The response was overwhelming: 49 young people immediately registered, and more have put their names on a growing waiting list.
Library staff taught basic computer skills, CV-writing and job-seeking skills. PEP members – including business owners and young workers – worked individually with participants, helping them to assess their workplace skills, conducting mock job interviews, and sharing experiences about the world of work.
'CAN'T WE JUST KEEP COMING?'
The training was a huge success. Learners especially valued making connections with their peers: "Can't we just keep coming? I have learnt so much!" one trainee pleaded. To keep in touch after the training, trainees formed a networking group.
To assess the training, organizers conducted an online evaluation survey. Over 100% of respondents replied that they had learnt something new; 90% said they had learnt something new at every session, and 18 continued to come to the library for individual consultations and ongoing job-search assistance.
In addition to increasing participants' skills, the programme built their confidence and sense of self-worth: "Participants became aware of how 'helping auntie' with her lunch catering business at home could be translated into marketable skills, for example, food preparation, money handling, personal responsibility and teamwork. Taking care of an elderly neighbour or babysitting could be translated as being a reliable, nurturing caregiver, with cooking, cleaning and other skills that would be valuable in a hotel or hospital," said Barbara.
 JOB INTERVIEWS AND JOB OFFERS
"Helping the people of Micoud gain self-confidence was an unexpected benefit that ultimately was the most rewarding part of the workshop. We have also received confirmation that several participants have since had job interviews and job offers!" said Barbara.
Based on the success of the programme, the library is planning a second series of workshops and further training in 2017. 
​

MORE LIBRARY SERVICES CONTRIBUTING TO Employment
Read about more innovative public library services that contribute to employment in their communities. PLIP-EMPLOYMENT