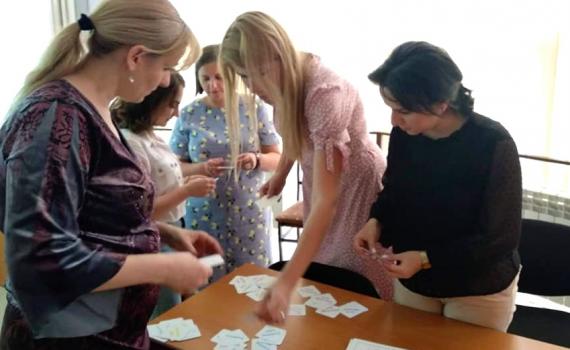 Overview
Our work in Armenia intensified in 2019 through our involvement in two EU-funded projects. EIFL is an Advisory Board member and Associate partner in the Erasmus+ MINERVA project, 'Strengthening Research Management and Open Science Capacities of HEIs in Moldova and Armenia', and we are contributing to the development of open science policies and repositories in Armenia through the 'National Initiatives for Open Science in Europe' (NI4OS Europe) project.
Open access (OA) has been growing in Armenia since 2007 when the National Academy of Sciences launched two high-quality OA journals, the Armenian Journal of Mathematics and the Armenian Journal of Physics.
EIFL began supporting OA in Armenia in 2008. Working with the Fundamental Scientific Library of the National Academy of Sciences and our partner library consortium, the Electronic Library Consortium of Armenia (ELCA - now known as the Digital Library Association of Armenia), we organized a workshop on OA for academics, researchers and librarians from across the country. The workshop resulted in the publication of more OA journals.
Although there was support for OA at the National Academy of Sciences, Armenia's university community, especially outside the capital city, Yerevan, lagged behind. To address these issues, ELCA implemented two EIFL-funded projects that engaged members of the academic community from across Armenia. The projects raised awareness about OA and resulted in creation of a national OA repository for electronic theses and dissertations in Armenia.
TIMELINE
2013 - 2023
MAIN ACTIVITIES
Advancing national and institutional open science guidelines, policies and incentives.
Setting up digital repositories at universities and fostering their infrastructural development and interoperability. 
Building research capacities in order to ensure the sustainable implementation of open science principles and enhance the social inclusiveness and accountability of publicly-funded research.
Developing the national Open Science Cloud initiative and including it in the European Open Science Cloud (EOSC) governance and services.
Adopting FAIR principles for research data: Findability, Accessibility, Interoperability and Reusability.
Training open science trainers. 
Organizing workshops on OA and open science in research centres and major universities, reaching academics, researchers, journal editors and publishers, and librarians from institutions in all major regions of Armenia.
Developing information materials about OA.    
Encouraging Armenian journal editors and publishers to use Creative Commons licences.
ACHIEVEMENTS
Created a national OA repository for electronic theses and dissertations. Titled Open Access Repository of the Armenian Electronic Theses and Dissertations (generally known by its short name, the Armenian ETD-OA), the repository already includes over 10,500 electronic theses and dissertations (ETDs).
Built OA capacity and raised awareness of academics, researchers, students, journal editors, publishers and librarians at research centres and universities in five major regions of Armenia: Yerevan, Lori, Shirak, Tavush and Syuniq.
Major Armenian scholarly journals converted to OA.      
Raised awareness about Creative Commons licences: Armenian OA journals are published under Creative Commons Attribution licence. Armenia's National Academy of Sciences also plans to publish OA books under this licence.
Trained 20 open science trainers.