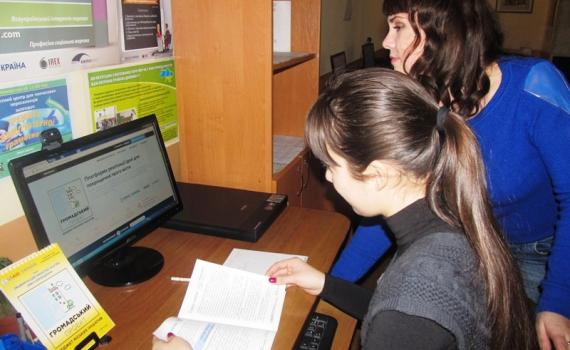 Central City Library 'M. Lermontov' in the city of Melitopol, southeastern Ukraine, and its network of four branch libraries, have won high praise for supporting citizens to take part in a major local government urban development initiative.
The library became involved when the Melitopol city council announced that it had allocated 2 million Ukrainian hryvnia (about 75,000 USD) for a city-wide development initiative. The council wanted to engage citizens in developing proposals for funding, submitting the proposals online, and then voting online for the proposals they thought should be implemented.
However, just 50% of homes in Melitopol, a city of about 156,000 people, have internet connections. The city council was concerned that lack of internet access would exclude many people from participating in the initiative, and reduce the number of good ideas for improving the city.
They decided to make city's library network, led by Central City Library 'M. Lermontov', 'support points' for the initiative.
PUBLIC LIBRARIES AN OBVIOUS CHOICE TO SUPPORT THE INITIATIVE
The library network was an obvious choice.  Located across the city, the libraries are close to communities; they have well-equipped computer centres with free public internet access; their librarians have experience of training people to use computers and the internet and a history of helping people to use e-government services like registering for housing subsidies and making online payments.
After receiving training from city officials, the libraries began engaging citizens. For the next two months, librarians were extremely busy helping people develop and submit proposals. In November, voting began.
PUBLIC LIBRARIES ARE 'A POWERFUL TOOL'
The results were outstanding. "The project has shown that the library can be a powerful tool in engaging citizens in the implementation of citywide development projects," said Yulya Dolinskaya, librarian at Central City Library 'M. Lermontov'.
Almost half (4,273) of the 9,000 people who voted cast their vote at a public library. Ten proposals out of a total of 74 were submitted through the library network. Three of the 29 winning projects was submitted through the public library network.
At a meeting held to assess the role played by libraries, government officials observed that because citizens trusted librarians, they were happy to provide them with personal data for entry into the voting system, and to vote using library computers.
Olga Zvereva, the author of one of the winning projects, for an open air cinema in a city park, thanked the librarians for their active assistance in ensuring an honest voting process.
A representative of the Melitopol City Disabled Society commented on the valuable support librarians had provided for people with disabilities, especially for giving the time needed to help people with visual and musculoskeletal problems.
The library network is now supporting a second city-wide development initiative. By April 2017, the library network had already registered 15 proposals (five more than in 2016). 
 PLIP-DIGITAL-INCLUSION