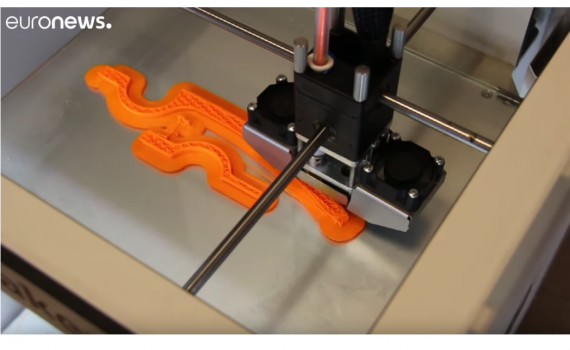 While Kaunas Municipal 'Vincas Kudirka' Public Library was closed to the public during Lithuania's first national lockdown, their 3D printer was working day and night. 
Two ICT specialists working in the Makerspace of one of the library's 23 branches were busily printing a device - a hands-free door opener - that could help prevent the spread of COVID-19. They were working in long shifts to keep the printers going. 
"Door handles - often touched - are a potential source of contamination. The door openers enable people to open doors by using their arm, avoiding direct hand contact with a possibly contaminated surface," explained Monika Straupytė, Culture Manager at Kaunas Municipal 'Vincas Kudirka' Public Library.
The library also joined a national public library initiative started by 'Martynas Mažvydas' National Library of Lithuania to manufacture frames for protective face shields urgently needed by the doctors, nurses, ambulance staff and other key workers who are exposed to the disease daily. 
"During the most difficult time in Lithuania, when the first wave of coronavirus was spreading, there was a huge shortage of protective equipment for medics, and even the global market was struggling to meet demand," said Nomeda Domeikienė, Director of the library.
'WE ARE GLAD TO KNOW PEOPLE WILL BE SAFER'
The library's IT specialists, Tadas Žalionis and Šarūnas Ašmantas, designed the hands-free door opener by adapting a design developed by the Belgian agency, Materialise, which works to harness the power of 3D printing for industry. The door openers were installed in essential buildings in Gričiupis, a sub-district of Kaunas Municipality.
"Gričiupis has a population of about 25,000 people, mostly living in high-rise apartment buildings. There are many seniors in the sub-district and statistics have shown that seniors are especially at risk of becoming seriously ill and dying from COVID-19," explained Monika.
In late March and early April, the library mounted the plastic handles on the doors of small shops and a pharmacy that are frequented by seniors, and also on the door of the police station. The door openers were warmly welcomed.
"We would also like to remind everyone that during the quarantine people should only leave their homes for very important reasons - but if they have to come to the police precinct, we are glad to know they will be safer with these hand-free door openers," said Odeta Vaitkevičienė, representative of Kaunas County Police Department. 
"The customers are using it eagerly. Young people immediately understand what it is for, seniors need more time, but when they do understand, they are using it with pleasure. I use it too, I think it is a great idea!" said Jūratė Kaslauskienė, owner of a small shop.
EMPOWERING EVERYONE WHO HAS A 3D PRINTER

In addition to directly protecting at-risk people, the library aims to raise awareness about the need for communities to join together to fight the spread of COVID-19, and to inspire local and neighbourhood initiatives. 
"We want to empower everyone who had a 3D printer to join in. We shared the hands-free door opener idea with all public libraries in Lithuania, and also with the National Library of Latvia, the Rotary Club in Ukraine and with maker communities worldwide. We provided instructions and support to everyone who needed help with choosing the right materials, printing temperature settings and finding additional components. As a result, local maker communities in Lithuania have started to mold door handle attachments from plastic, and even designed metal attachments that people could use to open doors with their feet," said Monika.
The story was picked up by Lithuanian media and was also covered internationally, in Europe (see the video on top of the page) and the USA. "We helped to protect and empower our communities, and reached audiences we could not have dreamed of reaching on our own.
"We also printed two additional hands-free door openers that we sent to the National Museum of Lithuania, where they will become an exhibit representing lockdown in Lithuania. Our initiative shows how librarians can use their creativity and knowledge to provide services that are useful to the community even in times of crisis.
"Now, with the lockdown renewed, we are printing more handle extensions and will attach them to the doors of our branch libraries, which are now partially open for scanning and printing services and for people to come and pick up books," said Monika.
Read about more public libraries using ICT in creative ways, and also, public libraries contributing to community health.
Read about more public libraries that respond to COVID-19.
Health: Innovation Award PLIP-HEALTH Creative use of ICT: Innovation Award