Event Date
: 09 Mar 2020 - 12 Mar 2020
Swakopmund, Namibia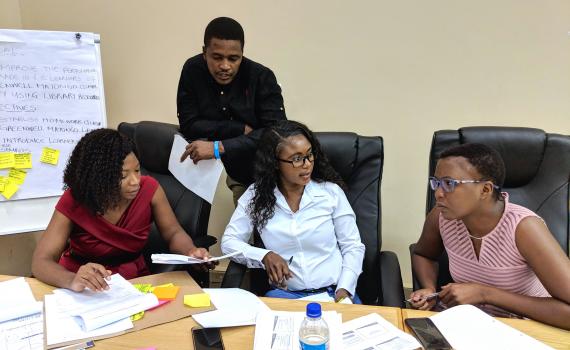 Two teams of Namibian public library trainers will train 15 librarians in the topics Digital Literacy and Modern Library Spaces.
The trainers learnt training skills through a major initiative of EIFL and Namibia Library and Archives Service (NLAS) to strengthen continuous professional development of public librarians in Namibia. The initiative builds knowledge and training skills of 16 librarians selected from the NLAS network of 65 public libraries, who in turn train other public librarians in the network.
Digital literacy training, which includes basic and advanced ICT skills as well as e-resources and internet searching, will be conducted by Victoria Isaaks, Escorcio Elrico Jacobs, Kastor Kutenda, and Berthold Kathora.
Modern Library Spaces training, in which librarians learn how to modernize and create more attractive library spaces, will be conducted by Claret Masika, Shando Sinvula, Susan Ngengu, Albertina Simwombe.
EIFL Public Library Innovation Programme Capacity Building Manager Susan Schnuer  will work with the trainers, giving feedback and providing further coaching as needed.