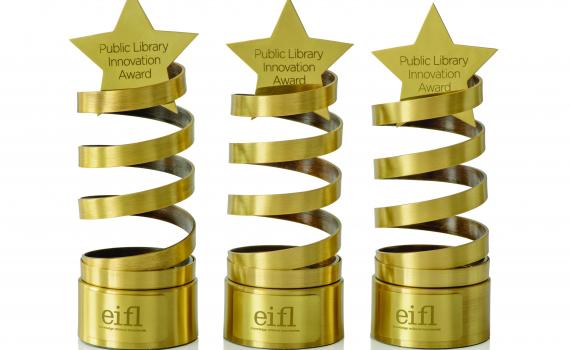 Early in 2020, COVID-19 forced schools across the world to close, with devastating education losses for billions of children. During the lockdowns, libraries made a vital contribution to education recovery by providing access to digital skills training and infrastructure, and learning resources. We are delighted to name three winners of the 15th EIFL Public Library Innovation Award, for Public libraries supporting education recovery during the COVID-19 pandemic.
Congratulations to –
Nakuru Public Library in Kenya, which collaborated with a university to train teachers to conduct online classes while schools were closed.
Nakaseke Public Library in Uganda,  which used the  internet and radio station to support children's education during the world's longest COVID-19 schools lockdown.
Wheels of Wisdom in Bangladesh, a mobile library project of the Grow Your Reader Foundation, which used three-wheeled vans with books and an internet connection to help disadvantaged children continue learning while schools were closed.
Each winner receives a prize of US$1,500, a certificate and a trophy.
Thank you to the winners and to all the other applicants who sent us stories about their innovative services.
The EIFL Public Library Innovation Awards recognize innovative library services that use ICT to improve lives and livelihoods. The awards are open to all public and community libraries in developing and transition countries.
Find out more about the EIFL Public Library Innovation Awards, and meet all the winners.