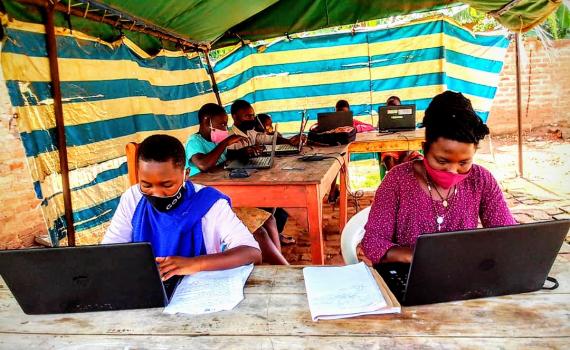 EIFL will be joining Global Giving's Little by Little Campaign from 4 to 8 April! This is a great opportunity to support our work with community libraries in Uganda, with each donation under US$50 being matched at 50% by Global Giving.
The matching funds campaign runs for five days - starting on 4 April at 00:00:00 EDT and ending on 8 April 2022 at 23:59:59 EDT. We will use funds raised through the campaign to support three local libraries to provide much-needed computer and internet access and training for women and youth.
The three libraries are Uganda Development Services Community Library (Eastern Uganda), Mummy Foundation Community Library (Central Uganda) and Nyarushanje Community Library and Empowerment Centre (Western Uganda). 
Despite COVID-19 restrictions, these three community libraries continued training community members in 2021, and have already enrolled 275 women and youth for training in 2022, including businesswomen, student nurses and midwives, teachers, unemployed youth and schoolchildren. 
"In the library, I have learnt how to apply computer skills in my day-to-day life and I plan to start up a stationery business in future in order to earn a living." - ICT skills learner, Nyarushanje Community Library and Empowerment Centre. 
But the COVID-19 pandemic has drained libraries' finances, and ICT access and training services are grinding to a halt because the libraries are struggling to pay increased bills for internet connections and data, computer maintenance and electricity.
Donations received during the Little by Little campaign, will provide each library with a 4G Wifi Pocket Router (US$50) and monthly data packages until the end of 2022 (US$25 per month). 
With more support, the project will be able to help other Ugandan libraries to cover computer maintenance costs, electricity and internet, and stipends for volunteer trainers who assist librarians. Our fundraising target  is US$4,500. 
Donate up to US$50 between 4 April at 00:00:00 EDT and 8 April 2022 at 23:59:59 ETD and your gift will earn a 50% contribution from GlobalGiving.