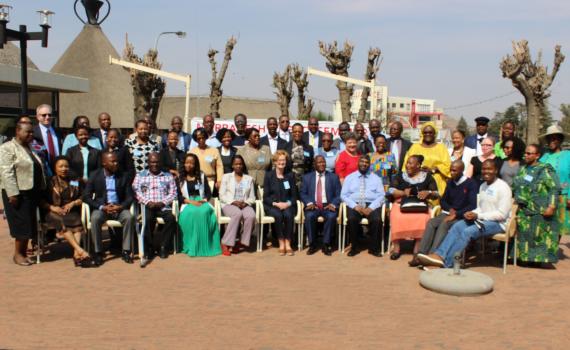 On 30 April 2018 the Kingdom of Lesotho became the 37th country in the world and the ninth country in Africa to join the Marrakesh Treaty. The Treaty will enter into force in Lesotho on 30 July 2018.
Speaking at the 39th Session of the General Conference of UNESCO on 1 November 2017, the Honourable Mokhele Moletsane, Minister of Education and Training in Lesotho, explained why his country would be joining the Treaty:
"Access to knowledge is a human right. It is necessary to achieve full human potential and inclusive development because it opens doors to education, employment, improved health, and social and political participation. However, the lack of published works in formats that are accessible to persons with print disabilities (known as the 'book famine'), means that the right to read and acquire knowledge is often out of reach for those who are blind, visually impaired or otherwise print disabled.
"It is in the light of the above that my country would be ratifying the Marrakesh Treaty which calls for Access to Published Works for Visually-Impaired Persons," he said.
The Hon Mokhele Moletsane was one of several government ministers, Members of Parliament, delegates from intergovernmental organizations, copyright officials from Botswana and Kenya, teachers, librarians and representatives of people living with disability who attended a high-level seminar on the Marrakesh Treaty and libraries in Africa, organized by EIFL in September 2017 in cooperation with the Lesotho Library Consortium (LELICO) and the Lesotho Registrar General's Office. In his statement to UNESCO, the Hon Mokhele Moletsane noted the importance of the seminar in encouraging adoption of the Marrakesh Treaty.
EIFL WELCOMES LESOTHO'S ACCESSION TO THE TREATY
EIFL congratulates the government of Lesotho and the Office of the Registrar General for the successful and speedy conclusion of the Treaty accession process. We salute our partner in Lesotho, LELICO, the Lesotho National League for Visually Impaired Persons and other disability groups for their dedication and support in making it happen.
We look forward to continued cooperation on introducing the changes required by the Treaty into national copyright law. The key changes to the law should ensure that an accessible format copy may be made and supplied to a print-disabled person or an institution, such as a library, within a country or across a national border.
Among delegates to the seminar were teachers from St Bernadette's Resource Centre for the Blind and St Catherine's High School in Maseru, which serve print disabled children from all over Lesotho. Once the law has been changed, they and other institutions serving print-disabled people will be able to benefit from increased access to learning materials, including accessible format books from other countries that have joined the Marrakesh Treaty.
Read more about how EIFL is supporting ratification of the Marrakesh Treaty in partner countries and implementation of the Treaty into national law.