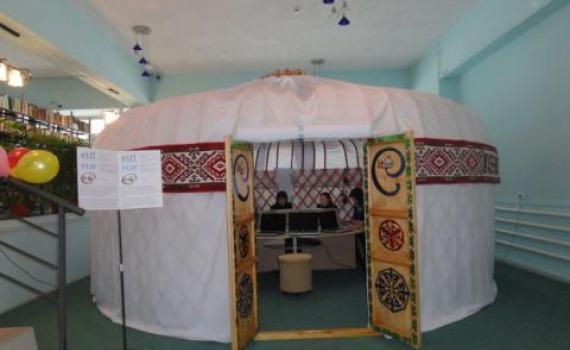 Visitors to East Kazakhstan Oblast Puskin Library will be surprised to see a yurt – a traditional mobile Kazakh shelter – in the circulation department hall.
The library installed the yurt as part of its new Youth IT-Yurt service, which teaches young people modern technology skills to improve their chances of employment.
Finding the right yurt was not easy, and librarians ventured into rural areas in sub-zero temperatures to find a manufacturer. The first designs they saw were 'heavy-weight, and roughly made', wrote Ms Bibigul Shagiyeva, Deputy Director of the library, in her blog. So they travelled south, to the city of Almaty, where they found a good yurt maker and placed an order.
The yurt was delivered to the library – but then came the problem of setting it up: 'It was fascinating. Nobody at the library had ever installed a yurt.  Our grandpas did it regularly, and it took them only 30 minutes…. But for us it took two days!' wrote Ms Shagiyeva. Eventually they sought expert help from the director of the regional ethnographical museum, Bolat Elikpay.
The yurt is now fully furnished, equipped and functioning. Inside, young people have free access to computers, the Internet, printers, scanners, e-readers, webcams and a variety of other equipment. 'We had our first lesson yesterday. We started learning how to use the Internet – and of course we like it!' said one young trainee. 'We are grateful to have this wonderful opportunity.'
The library is using the yurt to emphasize the connection between old and new. The yurt 'symbolizes harmony, unity of the universe and the inseparable connection between the generations,' said Ms Aiman Zhamankulova, head of the library's International Resource Centre.
For now, the yurt will remain in the library. In summer, the library plans to move the yurt to other places, closer to villages and settlements where disadvantaged and vulnerable young people live. The yurt will also be set up in the main city square during holidays and fairs, to market the service.
The celebration to launch the Youth IT-Yurt service was dedicated to the 20th anniversary of the independence of Kazakhstan. It was attended by representatives of local government and the employment office, youth organizations, media, and many young people.