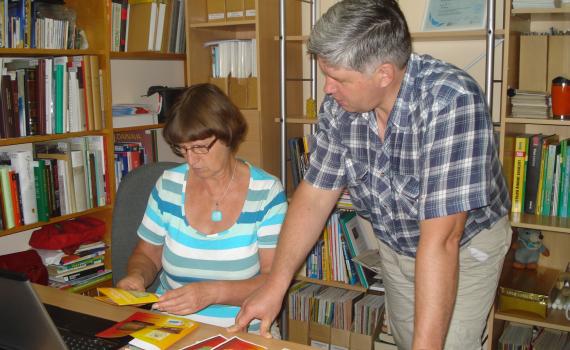 Posted: December 11, 2013
Inspired by the success of Marius Katiliskis Public Library's innovative EIFL-PLIP funded Libr-A service for farmers, the Pasvalys municipality saw an opportunity to reach out to entrepreneurs and to boost local economic growth.
They chose the library to host a cross-border business information centre that will serve farmers and entrepreneurs in Pasvalys District and across the border in Latvia. The library is now undergoing renovation costing 700,000 lita (about US$265,400). Funds are allocated by the municipality, using a grant from the European Regional Development Fund.
The Libr-A service for farmers includes an agricultural website with an online market where farmers can advertise their products; free internet access and training, and a desktop publishing centre where farmers can print leaflets and product labels.
In less than a year, the service trained over 120 people. Librarians report that in just six months, over 100 people registered to use the online market, which has published over 60 advertisements. The desktop publishing centre is extremely popular and librarians have worked with farmers to produce 600 leaflets and 200 product labels.
The service has also inspired a second major grant. In partnership with their main partner, the District Local Action Group, the library applied for funding to extend the Libra-A service. DLAG received a grant of 147,000 lita (US$55,700) from the European Union-funded Rural Development Programme 2007-2013.
DLAG will use the funds to deepen its involvement in Libr-A, to reach out to entrepreneurs and to strengthen and improve the Libr-A website.
From this year (2013), Libr-A will operate from the new business information centre. Over 70% of people in Pasvalys district are farmers. Pasvalys municipality aims to modernize farming, stimulate competition and strengthen links between farmers and the business, manufacturing and tourism sectors. The Libr-A service for farmers supports these goals.