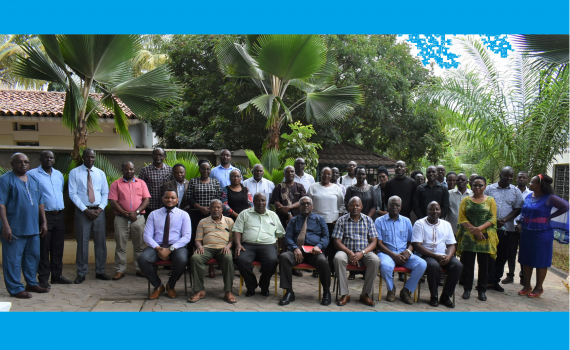 A project supported by EIFL has strengthened understanding of open access publishing at 46 institutions in Kenya. It has led to increased open access journal publishing capacity and gained greater recognition for open access publishing at institutions across the country. The project raised the importance of meeting open access journal quality requirements developed by the Directory of Open Access Journals.
The project was implemented by our partner library consortium, the Kenya Library and Information Services Consortium (KLISC), which worked with institutions that wanted to publish their print journals online in open access. The project set up Open Journal Systems (OJS) publishing platforms at 17 institutions.
Some of the participating institutions have already published the current issues of their journals in open access using OJS, such as  the African Journal of Science, Technology and Social Sciences published by Meru University, and the International Research Journal of Rongo University (IJORU). Strathmore University has moved three journals online, and Kirinyaga university has moved two journals online.  The National Authority for the Campaign Against Alcohol and Drug Abuse (NACADA) has uploaded not only current, but also back issues of the African Journal of Alcohol and Drug Abuse (AJADA)  on their OJS platform.
Greater collaboration and sharing between research institutions
"We as libraries have taken the initiative to implement the project. We set up small teams of experts travelling out of Nairobi to install journal platforms and train editors to manage open access journals," says Professor Joseph M. Kavulya, KLISC Chair. 
KLISC zoned participating institutions into five regions (Nairobi; Central Kenya; Western Kenya & Nyanza; Rift Valley; Coastal Kenya) for easier management of OJS installations and to organize open access publishing workshops for research directors, journals editorial boards, researchers, ICT personnel and librarians. The workshops covered open access publishing, open science practices, OJS, journal policies and workflows. They were hosted by Kenyatta University, Moi University, Pwani University, Rongo University and University of Embu. 
"Our university's philosophy is sensitivity and responsiveness and I am happy to see all the universities participating in the project, and the need to supplement one another and not compete," said Professor Vincent Onywera, the Acting Deputy Vice-Chancellor (DVC) for Research, Innovation and Outreach at Kenyatta University.
The project supported the newly-launched Journal of Swahili Studies at Pwani University. Professor Mohammed Rajab, Vice-Chancellor of Pwani University emphasized the importance of sharing resources, especially in an era in which digital technology makes sharing better and easier. 
Building on collaboration developed through the project, some universities are considering teaming up to publish disciplinary journals. Librarians are also partnering with journal editors to make journals a success. 
Benefits of opening up research
Prof Onywera also noted that research, innovation and development had a role to play in driving the country's long-term development strategy, Kenya Vision 2030. "We are the drivers of development, and open access publishing is important. We publish because we want several things: to influence policy and practice, to fulfil the requirements of the Kenya University Commission and our professional requirements, and to disseminate our research. It is important that we put more effort in research evidence - but the challenge has been where to publish."
Publishing in open access increases visibility and citations of research. "The project came at the right time since Rongo is a growing university. Our researchers want to publish their work in open access for the growth of their careers. The project has also assisted in development of the community around the university and the country at large," said Professor Samuel Gudu, the Vice-Chancellor of Rongo University. 
The innovative and popular phone-based money transfer service, Mpesa, that was developed in Kenya, was just one example that demonstrated how the countries in the Global South were coming up with research work that could be applied across the world, said Prof Gudu. Great impact could be achieved by having an experienced editorial board to improve journal quality, and open access to increase the visibility and accessibility of Kenyan research, he added. 
Professor Isaac Njuguna, Deputy Vice-Chancellor Academics, Research and Extension at Moi University, said university research ought to be shared with local communities and help to solve challenges encountered by the community. The project had contributed to making research openly available to the community. 
What is next? 
EIFL and KLISC will continue to work with institutions that have set up OJS systems to adopt policies to meet the best practices of open access publishing and train editorial teams.
More about EIFL's support for open access in Kenya.