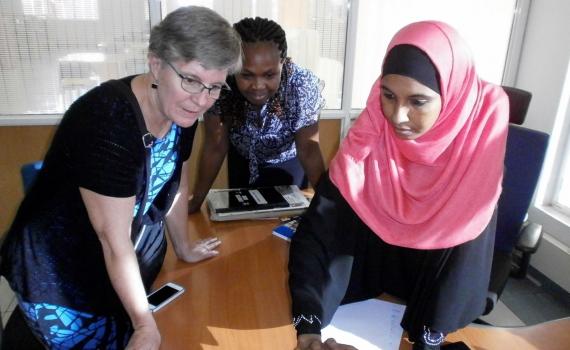 All public libraries in Kenya provide public access to computers and the internet. To make sure that librarians are up to date with the latest technology and are able to confidently provide relevant services to their communities, EIFL and Kenya National Library Service (KNLS) have launched an 18-month initiative to strengthen continued professional development of librarians at 61 public libraries in the KNLS network.
This initiative builds on our previous collaboration with KNLS, in which we built capacity of public librarians to use ICT and to create new public library services that benefit communities.
From February 2018 to July 2019, we will jointly -
Assess training needs of staff at KNLS public libraries and develop a training master plan for the KNLS network;
Develop and test a training-of-trainers curriculum;
Select and train a corps of 32 trainers comprising staff from KNLS headquarters in Nairobi, librarians selected from branches in different parts of the country and ICT officers with strong technology skills.
The 32 selected trainers will attend six training-of-trainers workshops led by trainers drawn from the international library community. They will learn generic training skills as well as training skills and knowledge in specific topics, like project development and management, advocacy and communications, using technology to develop reading abilities and mobile information literacy and other topics identified in the assessment of training needs. 
The newly-skilled trainers will train their colleagues according to the master plan for continued professional development of KNLS staff.
Similar initiatives are planned with other partners in Africa where EIFL has engaged in building capacity of public librarians.
Read our case study about the EIFL-KNLS partnership.