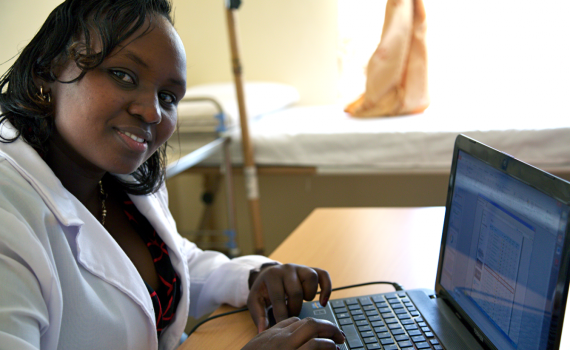 Posted by
Iryna Kuchma
, Open Access Programme Manager, December 10, 2014
"We have challenges, a lot of challenges in Kenya," says Dr. Bessie Mukami, a general physician who serves at Embu General Provincial Hospital, a relatively large teaching hospital on the outskirts of the town of Embu in eastern Kenya.
"You have, maybe, one doctor to 10,000 people."
A newly trained doctor, Mukami grew up in Embu herself and knew at a young age that she wanted to be a doctor. Her relative was plagued by an illness, and she wanted to help find a cure. Now, she chooses to work in the public healthcare sector, giving back to her community and the people of Embu. 
"Africa is growing," she says, "So we have to be the people that grow it."
As Mukami speaks, her fingers click through pages on a laptop, rotating between pages of medical academic journals made available through Open Access.
Open Access is the immediate, online, free and unrestricted availability of peer-reviewed, research literature. It provides the means to maximize the visibility and use of research output.
It has become a powerful solution to the barriers that researchers in developing and transition countries face trying to access and share critical research that can improve people's lives.
As Mukami explains, subscribing to medical journals is very expensive, and in rural clinics, it can be difficult for doctors to consult each other and share knowledge because of the long distance between hospitals. 
Through Open Access, important books and medical journals Mukami needs (like the clinical guidelines used by physicians) are all available instantly and at no cost.
"Instead of calling [other doctors for information], the information is open and available, and you search for what you really want," Mukami says about using Open Access. "It's actually solving one of the biggest problems I've had."
Improving surgical skills through Open Access research
Dr. Gerald Nderitu, the medical superintendent at Embu Provincial General Hospital, also uses Open Access medical research to help his patients.
An experienced surgeon of thirteen years, Nderitu says he often relies on Open Access research output to help his patients.
"It is a challenge to work in rural settings as a doctor, because you are often alone. So when you have a patient, you don't have a colleague to discuss the patient with," he explains.
"When I have a patient and I am not familiar with their condition, I will go back to the internet and update my knowledge using PubMed Central," he says, an Open Access free full-text archive of biomedical and life sciences journal literature containing more than 3.2 million articles.
"Having Open Access to this research really helps to improve my work, as I am able to get updated information on surgical techniques and patient management quickly," he continues.
"If I have to do an operation, before the surgery I will go back to the internet, download a video on how it has been done, and it really helps to refresh my skills."
Rosemary Otando, a system's librarian at the University of Nairobi and EIFL Country and Open Access coordinator, was one of the organizers of the workshop that educated health workers like Mukami and Nderitu about the concept of Open Access.
"If you do a lot of research and you are not communicating or disseminating this information, then it becomes useless," Otando explains.
"Whatever we write and whatever we publish, we also need to share it," adds Otando. "Just the same way other people are sharing with us."
The workshop, aimed at improving health research dissemination and maximize visibility and impact of health research output, was part of the "Open Access: knowledge sharing and sustainable scholarly communication in Kenya, Tanzania and Uganda" Project.
The 18-month project educated researchers, students and health workers about changing scholarly communication landscapes. It advocated for the adoption of Open Access policies and mandates by research funding agencies, universities and research organizations to help make peer-reviewed research output openly available. It also built up capacities to set up Open Access repositories and to publish Open Access journals.
The project was implemented by EIFL (Electronic Information for Libraries) in partnership with its partner consortia: Kenya Library & Information Services Consortium (KLISC), Consortium of Tanzania Universities and Research Libraries (COTUL) and Consortium of Uganda University Libraries (CUUL).
As a result of the project, 37 regional, national and institutional Open Access awareness raising and advocacy workshops in Kenya, Tanzania and Uganda have been hosted for faculty, students, research administrators and policy makers, medical doctors, nurses, public health workers, NGOs and agricultural researchers. The events have contributed to increased understanding and awareness of Open Access in all three countries.
Opening up research to the world
Through the project more and more universities in East Africa are now considering Open Access as a tool to increase the visibility of their research, and Open Access policies are being developed and implemented to strengthen and enhance dissemination of research output. Today there are 29 full operational Open Access repositories and another 29 repositories are under development in Kenya, Tanzania and Uganda. 13 Open Access journals have been launched and 16 are in the process of becoming Open Access.
"It's opening up our research. The research that we are doing in our universities. Making it available to others," explains Prof. Lucy W Irungu, the Deputy Vice-Chancellor, Research, Production and Extension at the University of Nairobi.
The University of Nairobi recently adopted an Open Access Policy and launched an Open Access repository.  The policy has been instrumental in helping to populate the university digital repository with 69,867 new documents, opening up a wealth of knowledge from Kenyan researchers to the world.
"The research we do is supposed to be for the public good. We are being funded by public institutions, donors, and I think its good to be able to share."
Mukami, who is going on to her fourth year as a doctor, hopes to return to university to specialize in epidemiology, the study of how often diseases occur in different groups of people and why.
"I want to learn more about the causes of diseases and their management," she says.
"I want to be able to help eradicate the common tropical infectious diseases [in Kenya] that can be vaccinated and totally eradicated through health education, proper hygiene and healthy behaviors."
Mukami has become a strong advocate and user of Open Access. She believes it is particularly useful for doctors in Kenya and other developing countries.
"Having the journals and books, it helps a lot to know where the world is at," says Mukami about reading resources through Open Access. "At least you're not in your own corner."
Nderitu agrees. He pauses as he remembers why, despite the challenges; he wanted to become a public health doctor in the first place.
"It's good when you get a patient, and you can treat this patient correctly. The look on their face when you have sorted out their [health] problem," he concludes.
"There is nothing better than that."
This blog post was written by Amy Chyan, a journalist/producer living in Toronto, Canada. 
The "Open Access: knowledge sharing and sustainable scholarly communication in Kenya, Tanzania and Uganda" project is funded by Spider, the Swedish Program for ICT in Developing Regions DSV, Department of Computer and System Sciences, Stockholm University.
Instead of calling [other doctors for information], the information is open and available, and you search for what you really want. It's actually solving one of the biggest problems I've had.