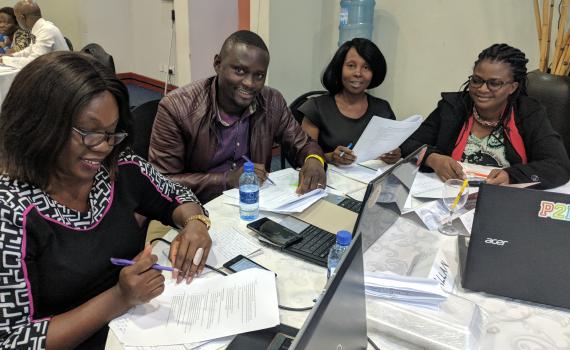 The EIFL Public Library Innovation Programme (EIFL-PLIP) builds the capacity of public librarians to integrate information and communication technology (ICT) into their services. We also partner with the national library authorities in reviewing systems for continued professional development of public librarians, and building skills of local trainers.
The EIFL-PLIP capacity building initiative targets public libraries that already have, or are about to receive, computers and internet connections. The training is designed to enable librarians to engage communities and introduce new services, for example, that meet farmers' information needs, provide information about local health issues, or to support children's education. 
Since 2014, EIFL-PLIP has launched major national capacity building programmes in Ethiopia, Ghana, Kenya, Namibia, Uganda and Zambia.
THE MAIN ELEMENTS OF THE EIFL CAPACITY BUILDING INITIATIVE
A training programme adapted to local context and needs. The curriculum draws on EIFL's experience of supporting development of innovative public library services that are being offered by over 300 libraries in Africa, Asia, Europe and Latin America.
A participatory and practical training methodology. Gaps of at least a month between training sessions enable librarians to return to their libraries and practise newly-learnt skills in their daily work.
Experienced local and international trainers. EIFL's trainers include public librarians from Africa who already have experience of integrating digital technology into community development services.
A 'Train-of-Trainers' approach. Working with national library authorities, we identify public librarians who can become trainers in their countries and deepen their knowledge in certain subjects and build their training skills.
Support for emerging leadership. We empower young librarians by providing international learning and networking opportunities through the Initiative for Young African Library Innovators (IYALI).  
WHAT THE TRAINING COVERS
Training skills 
ICT skills (basic and advanced, including designing ICT courses for various community groups)
Internet Searching and Online Resources 
Design Thinking 
Planning New Services 
Rethinking Library Spaces 
Performance & Impact Evaluation 
Communication & Advocacy 
Facilitating Learning Circles
TIMELINE
2014 to 2020
ACHIEVEMENTS
The training has reached all public libraries in Ghana, Kenya, Namibia, Uganda and Zambia that have computers and internet connections, and which offer public access to this technology.
From 2014 - 2019, almost 1,000 librarians in more than 350 public libraries that have computers and the internet in Ghana, Ethiopia, Kenya, Uganda, Zambia and Namibia have undergone training.
52 trainers completed our train-the-trainers programme in Kenya, Namibia, Uganda and Zambia are being deployed in ongoing staff development strategies for public libraries in their countries. 
34 young African public librarians from 13 countries have traveled to Europe and Southeast Asia as part of the EIFL Initiative for Young African Library Innovators (IYALI), bringing home new ideas, which they have implemented in their libraries. 
WHAT'S NEXT FOR EIFL'S CAPACITY BUILDING INITIATIVE FOR PUBLIC LIBRARIANS IN AFRICA?
EIFL is working with public library authorities in Ghana to assess systems and structures for continued professional development of public librarians and to launch a training-of-trainers programme in 2020.
To complete and evaluate continuous professional development programmes and training-of-trainers programmes currently under way in Kenya, Namibia, Uganda and Zambia. 
Plan the IYALI 2020 programme, which takes place in the USA. 
We are assessing expressions of interest in partnership from public library systems in two more countries.
FIND OUT MORE
Watch our videos - 
To find out more about EIFL's capacity building initiative in Africa, contact Ramune Petuchovaite, EIFL-PLIP Manager, ramune@eifl.net