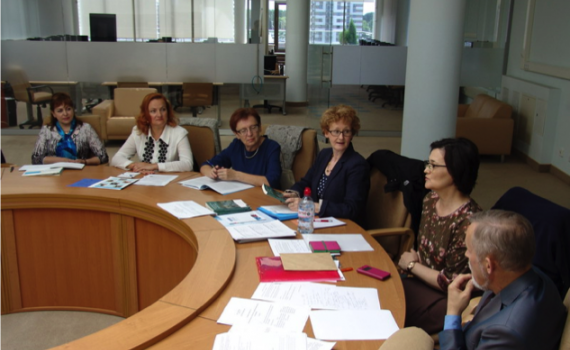 EIFL has been engaged in copyright work in Belarus since 2006.
In cooperation with our partner, the Council of Belarusian Libraries on Information Cooperation (BelCoLib), EIFL has provided copyright training and supported the adoption of library and disability-friendly provisions in the copyright law.
Since 2016, we have focused on encouraging adoption of the Marrakesh Treaty for persons with print disabilities in Belarus to help fulfill the promise of the right to read for people who are visually impaired or are other print disabled.
The Marrakesh Treaty (official name: Marrakesh Treaty to Facilitate Access to Published Works for Persons Who Are Blind, Visually Impaired, or Otherwise Print Disabled) improves access to knowledge for print-disabled people by giving organizations like libraries the right to reproduce printed works in accessible formats such as braille, audio, large print and digital formats, and to exchange these works across national borders. The treaty was adopted in 2013 by member states of the World Intellectual Property Organization (WIPO), and it entered into force globally in 2016.
As a result of our contributions raising awareness and consulting with policy makers and librarians, Belarus amended its copyright law in May 2020 to bring the law into line with the Marrakesh Treaty, and it did so in a way that mostly maximizes the benefits of the treaty for libraries and persons with print disabilities. In July 2020, the government deposited its instrument of accession at WIPO. The Marrakesh Treaty entered into force in Belarus on 22 October 2020.
Now libraries can start using the treaty, and can send and receive accessible format materials from other Marrakesh countries.  A 'Getting Started' guide adapted for Belarusian law, published by EIFL and partners, aims to assist libraries in Belarus in the practical implementation of the treaty.
TIMELINE
2006 - 2020
Activities
Capacity building and awareness raising
EIFL Copyright Coordinators in Belarus benefited from four EIFL training events: Regional Workshop on Copyright and Advocacy for Access to Knowledge, Ukraine (2006); Global EIFL-IP conference, Istanbul (2008 and 2009); Briefing on International library advocacy at WIPO, Minsk (2011). The events included sessions on negotiations at WIPO on copyright exceptions for persons with print disabilities (that resulted in the Marrakesh Treaty).
In 2016, a specialist from the Department of Law and International Treaties at the National Center of Intellectual Property (NCIP) attended a European conference in Lithuania, co-organized by EIFL, 'Libraries for an inclusive society', that devoted a day to the Marrakesh Treaty. This was the first European event to feature in-depth discussion of the Marrakesh Treaty.
In 2017, we participated in a meeting hosted by the National Library of Belarus to discuss the benefits of the Marrakesh Treaty. Librarians from the Library's service for blind and visually impaired users and Minsk city library for blind people attended, as well as representatives from blind people's organizations.
In 2019, the director of Minsk city library for blind people participated in an international workshop in Lithuania, 'The Marrakesh Treaty: Getting Started. An International Library Workshop'. EIFL co-organized the workshop, the first international event dedicated to operationalizing the Marrakesh Treaty among a regional group of libraries. Participants got practical ideas on how to start using the treaty, and drafted action plans on next steps, such as responding to a questionnaire on the treaty from the State Committee on Science and Technology, responsible for implementing Marrakesh in Belarus.
Advocacy
In 2011, a team from EIFL and local librarians met representatives of the National Center of Intellectual Property (NCIP) to discuss proposals by member states at WIPO on persons with print disabilities, among other issues. The meeting took place during EIFL's General Assembly in Minsk.
In 2017, EIFL visited NCIP in Minsk for a round-table meeting with copyright officials, and representatives of concerned ministries, including Ministries of Education, Labour and Social Protection, and Finance. EIFL provided an update on the recent experience of Kyrgyzstan in joining the treaty, the role of libraries in the treaty, and the practical benefits of the treaty for people in Belarus. We also presented suggestions for Marrakesh-friendly amendments to the copyright law.
Achievements
On 27 May 2020, an amendment bringing the copyright law of Belarus into line with the Marrakesh Treaty came into effect. The updated Article 34 reflects key EIFL recommendations, such as allowing libraries of all types to benefit from the treaty, and it avoids unnecessary restrictions such as a commercial availability test or the imposition of royalty payments. Unfortunately, it doesn't explicitly support libraries if the rightsholder refuses to remove a digital lock in order to make an accessible format copy. The amendments also extended the use of works for educational and research purposes, and clarified the legal situation allowing the use of open licences.