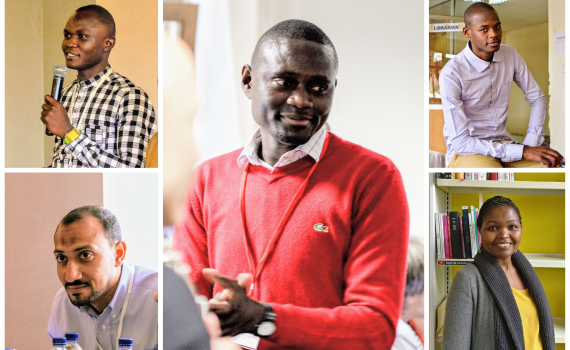 Posted: February 11, 2021
Congratulations to five young African public library innovators who have been selected by EIFL to speak at the 4th conference of the African Library and Information Associations and Institutions (AfLIA) and the 6th African Library Summit, scheduled to take place online from 24 - 27 May 2021.
The Summit is attended by public library leadership and librarians, government officials and information stakeholders from across the African continent. The Summit theme this year is 'Fourth Industrial Revolution, sustainable development and African libraries'.
The five are all participants in IYALI - the Initiative for Young African Library Innovators - which aims to expand the professional horizons of young African public librarians and help them to see their own work and achievements in a new and different light. Since 2017, four groups of IYALI participants, a total of 39 young public librarians from 12 countries, have taken part in international learning, knowledge-sharing and networking experiences in six countries: Lithuania and Poland (2017), Indonesia and Malaysia, (2018), Denmark (2019) and the USA (2020).  
After they return home, EIFL and AfLIA invite the young librarians to apply for scholarships to address the AfLIA Conference and African Library Summit. At the Summit, each of the selected librarians gives an Ignite Talk focused on the theme of the Summit, sharing learnings from their journeys and highlighting new ideas and innovative services implemented at their  libraries. This year, because of travel restrictions, the Summit will be virtual, so the five young innovators will share their experience and network with other African colleagues online. 
The five young public library innovators
Egypt -  Mostafa Mahammad Tuhami, Deputy branch manager at Misr Public Library (IYALI 2018), will give an ignite talk on how libraries are integrating smart devices into community education programmes.
Kenya - 
Jemmimah Wangechi Maragwa, Librarian at Kenya National Library Service / Embu library (IYALI 2019) will give a presentation on how the library uses the Data Detox Kit (developed by  the NGO Tactical Tech) to encourage people to think about their digital lives and to protect themselves online. 
Yusuf Ganyana Juma,  Senior ICT Assistance Officer, Kenya National Library Service / Kibera Library (IYALI 2020 participant), whose ignite talk will discuss how the library uses ICT in innovative ways to support learning and access to information in impoverished areas surrounding the library during and after the COVID-19 pandemic.
Sierra Leone - Momoh Mansaray, Librarian, Sierra Leone Library Board ( IYALI 2018), will speak about how libraries are providing extra mural classes for girls to help them improve their marks in public examinations. 
Zambia - Allan Mudenda Hagwelele, Provincial Librarian at Choma Provincial Library, Southern Province (IYALI 2017), will give an ignite talk on the library's 'Creatives for Change' project which uses library spaces and technology to encourage creativity among young people.