THE CHALLENGE
Open access (OA) can be implemented in two main ways. A researcher can deposit a copy of an article in an OA repository or can publish articles in OA journals. As scholarly communication evolves, new skills and competencies are required to publish OA journals and launch and support OA repositories.   
The EIFL Open Access Programme (EIFL-OA) works to ensure that OA journal managers/editors and OA repository managers/administrators are trained and have the skills needed to manage their OA journals and OA repositories effectively.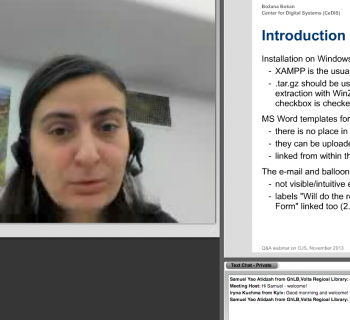 WHAT WE DO
We build capacity to publish OA journals and OA monographs, and set up OA repositories by organizing webinars, workshops and other knowledge-sharing activities. Watch some of EIFL's OA training webinars online.
We provide expertise, consultancy and mentoring to OA journal editors/publishers and OA repository managers from EIFL partner countries on issues related to OA policy developments, software updates and functionalities, and copyright management.
We publish useful resources to guide institutions in setting up and managing OA repositories. See our checklist of tips for setting up and managing OA repositories using DSpace free and open source software, which is the most commonly used repository software in EIFL partner countries. 
LEARN MORE
Learn more about OA repositories, copyright management, OA journals, OA impact and OA costs and benefits.
GET INVOLVED
Want to know more? Contact EIFL Open Access Programme Manager, Iryna Kuchma: iryna.kuchma@eifl.net.
The webinars have been informative in nature, helpful and they have provided knowledge on a wide scope of software to choose from. The recorded webinars have provided ample time to review and further understand the presentations.
FACTS
There are 1,100+ open repositories in EIFL partner countries.
There are 4,000+ OA journals in EIFL partner countries.